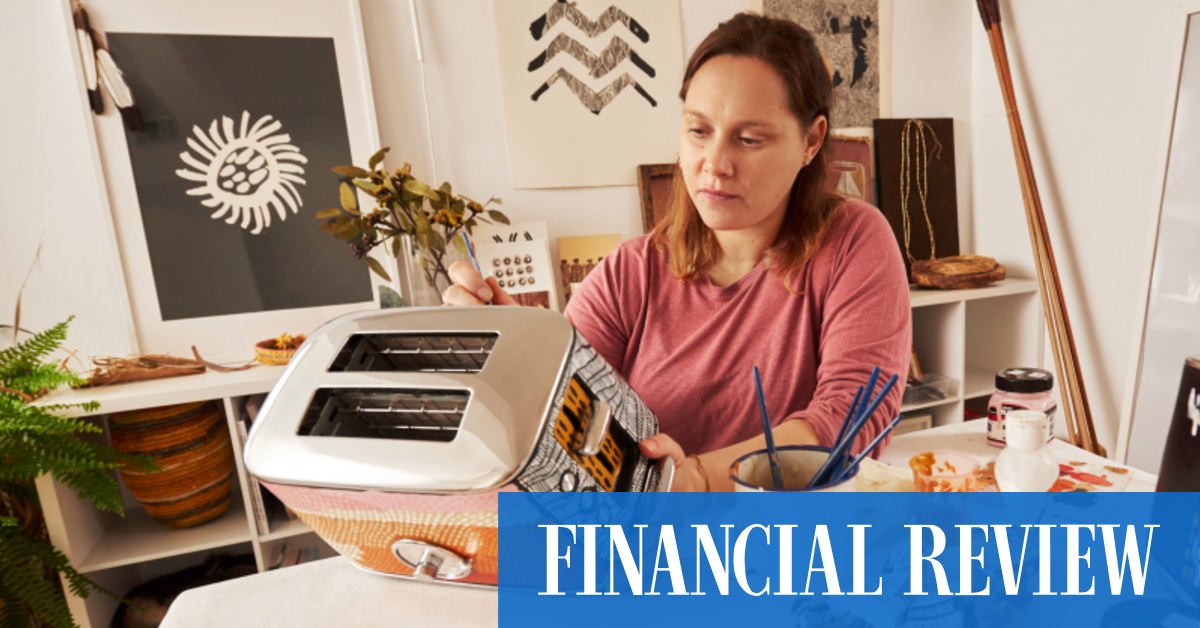 Breville posts double-digit profit and sales growth and increases dividend
This was a limited edition range, with all proceeds going to charities to create opportunity for Indigenous Australians. Prices for these items range from $349 for a toaster to $1999 for a coffee maker.
Breville will launch the range in London, Berlin, Paris, New York and Washington DC at a local museum in each city, in partnership with a retailer. In London, the range will be presented at the British Museum and at Harrod's department store.
"We will put stories from Australia's Aboriginal lands into kitchens around the world," Mr Clayton said.
Solid position, despite headwinds
Breville also launched a new pro countertop air fryer in the United States and Canada in March, which can be controlled by a mobile app.
Mr Clayton shrugged off guidance for the new year, but said that despite macroeconomic headwinds such as rising interest rates, Breville is in a strong position after building up inventory for the first half of 2023, and from new products are now launched.
"It is too early to predict how these forces will play out throughout the year, but in the first few weeks of FY23, selling is up from the prior corresponding period, and we are on plan. for the first half of 2023," he said.
He added that the US market is getting off to a stronger start than Europe, while Australia appears to be "stable as it goes".
The shares rose 2.5% to $22.01 in the early afternoon.
Breville – which counts Solomon Lew's Premier Investments as its largest shareholder – has doubled in size in the past four years. It posted record revenue of more than $1.4 billion, up 19.4%, but second-half sales growth moderated to 13.2%.
The Americas, the largest region, accelerated in the second half to help offset a slowdown in Europe as consumers and retailers reacted to the war in Ukraine.
Net income after tax increased 16.2% to $105.7 million. The group met its May forecast for an EBIT of around 156 million dollars.
Inventories more than doubled to $445.9 million as of June 30, helping ease inventory availability issues as Breville heads into the busy Christmas trading period.
Mr Clayton said the large increase in inventory was a deliberate decision.
"I would have taken more if I could have had more," he added. "If you don't have inventory, you won't have revenue."
Breville "like a Rolex"
Mr Clayton is clear there will be no discount to move stock, comparing Breville to a Rolex watch: "When was the last time you bought a Rolex at the end of the year, 50% off – never."
He said Breville will simply buy less inventory in the coming months and allow demand to rebalance inventory while selling at a premium. Breville still has a handful of promotions throughout the year, but more stock is purchased for those events, Mr. Clayton said.
Jarden analysts said the result was strong outside Europe, where the second-half decline was worse than expected. They estimated that gross margin pressures are expected to persist in 2023, with pricing being key to offset these impacts.
"While geographic expansion and new product development should support sales, we see continued risk for EMEA [Europe, Middle East and Africa] in particular," they said.
Clayton said 2022 results were strong amid challenging supply chain challenges, inflationary pressures and headwinds from Russia's invasion of Ukraine.
Breville held its gross margins steady at 34.3%, helped by a price increase of about 5% as it sought to offset rising transportation costs.
As ocean freight appears to be coming back, chief financial officer Martin Nicholas said, "we are seeing some noise in the US dollar and some FOB [Freight on Board] upcoming increases, so we are constantly reviewing our prices. »
A final dividend of 15¢ was declared, compared to 13.5¢ a year ago. This brought the dividend for the year to 30¢ per share (100% franked). The balance of the dividend will be paid on October 6.